Summer is over, but the savings have just begun. Celebrate a new season of learning with discounts on select biblical and theological resources. Whether you want to master the basics of biblical Greek or need tips for seminary survival, there is a lot to learn thanks to these resources. Here are few highlights from the Back-to-School sale:
Forming a solid foundation of knowledge is an important first step as you begin to study Scripture. Discovering the New Testament is a comprehensive introduction to the New Testament providing a thorough discussion of background issues as well as treating theological themes and practical application. Ideal for college or seminary students, numerous maps and charts are included, as well as discussion questions for each chapter and a focus on real-life relevance and application.
"We are living at a time when students enter learning with questions: Why? When? How? Show me! Mark Keown's Discovering the New Testament is a detailed and text-based approach to the Bible. It is a book that allows students an excellent opportunity to ask their questions and have them answered."

—Sarah Harris, New Testament Lecturer, Carey Baptist College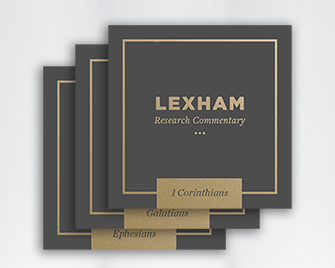 The Lexham Research Commentaries are
your starting point for study and research. These commentaries are designed to do all the dirty work of searching through all the relevant literature to find the information you need, saving you valuable time by curating all of the best resources in one place—it's a commentary on the commentaries. The annotated notes on the various viewpoints and interpretive options within the text allow you to quickly synthesize a broad range of views on a particular passage. This snapshot view of the text and the connected discussions provides an ideal starting point research and study.
When a great number of seminary presidents and professors all highly recommend a book, it's important to take heed. David Dockery, president of Trinity Evangelical Divinity School, calls Surviving and Thriving in Seminary "essential reading for the next generation of seminary students." Daniel Akin, president of Southeastern Baptist Theological Seminary, says this book will "help more seminarians start well, do well, and finish well." This essential book encourages and equips current and prospective seminary students to get the most out of their time in seminary.
"Daniel Zacharias and Benjamin Forrest have written an immensely helpful book on how to prepare yourself when you're totally unprepared for seminary. If you're starting seminary, this book will give you a head start, and hopefully prevent you from turning your Christian life into a train wreck. This book covers everything you should know from prayer life to research skills to time management. I wish someone had told me this when I went to seminary."

—Michael F. Bird, lecturer in theology, Ridley College
---
Get a self-serve education with savings on select biblical and theological resources. Shop the sale.