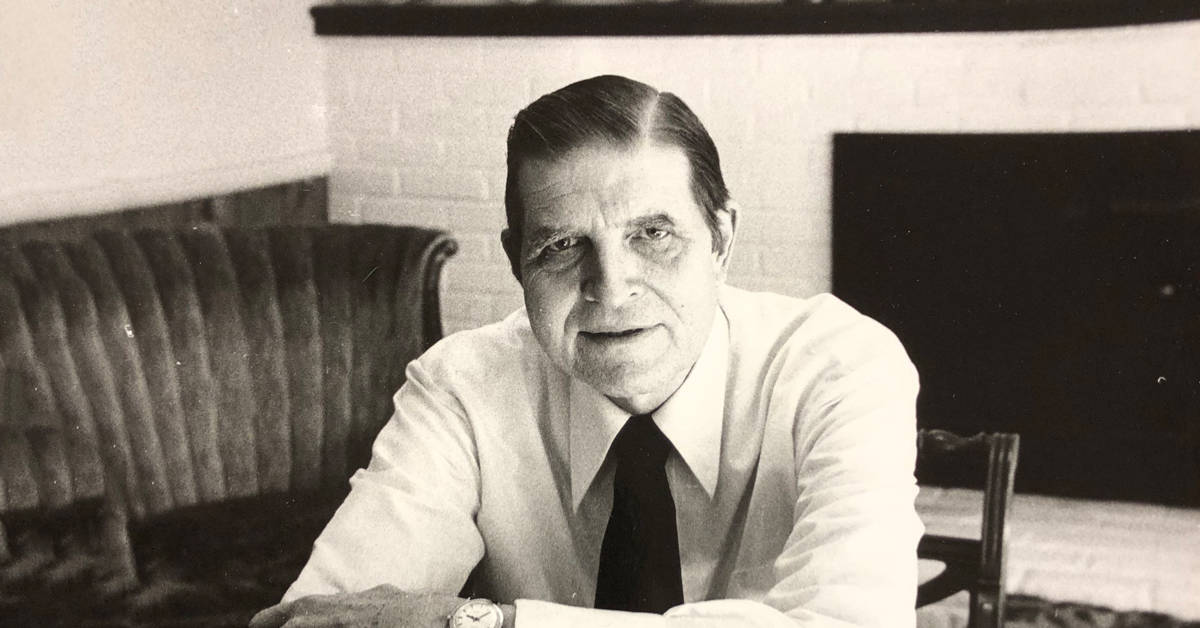 In this excerpt from Carl F. H. Henry on the Holy Spirit, Jesse M. Payne explains the broad contours of Carl F. H. Henry's pneumatology.
---
In the January 30, 1961, issue of Christianity Today, editor Carl F. H. Henry devoted a section to what he feared was a growing neglect of the Holy Spirit in modern theology. He wrote, "In twentieth century Christianity the Holy Spirit is still a displaced person. … Whenever the Church makes the Spirit of God a refugee, the Church—not the Spirit—becomes the vagabond." He was convinced that inattention to the Spirit would result in believers wandering helplessly throughout a lost world. Six years later, in the pages of the same magazine, Henry reiterated that the church is ever-dependent upon the Lord and Life-Giver, the Holy Spirit:
If the Church is stricken today, it is not the soul that is dying. The Spirit is alive. There may yet be healing. There may yet be resurrection. It will depend on whether the churches really want this outpouring of the Holy Spirit in our day. Do we? Or do we merely want to get along as we have always done?
Henry posed questions like these consistently to thousands of readers throughout his tenure at Christianity Today (1956–1968). He devoted the entire January 4, 1963, issue to the Spirit, along with numerous other articles and editorials throughout his twelve years at the helm. Further, he addressed the topic of the Holy Spirit in academic works such as Christian Personal Ethics and the six-volume God, Revelation and Authority, as well as in journal articles, monographs, and unpublished documents and correspondence. Henry was tapping into an evangelical impulse toward the Spirit that had characterized the movement since its earliest days, but since had seemed to dissipate in the haze of modernism.
Henry recognized that the Spirit was not only vital for personal growth, but for kingdom growth, too. Though remembered as an ambitious institutional builder, Henry maintained that, apart from the Spirit, evangelicalism's efforts would amass to nothing:
It is a truism—though one we continually need to learn—that there can be no effective Christian work apart from the empowering of the Holy Spirit. We can build congregations. We can supply impressive buildings. We can accomplish organization. We can promote and finance activity on a scale unprecedented, and we can harness new and effective instruments. Ministers and workers can even have the most detailed kind of training. But the fact remains that the work of regeneration is still the work of the sovereign Spirit, and a genuine reviving of Christian life, vigor, and evangelism may be expected only as the Holy Ghost gives life and power to all that we bring for his service.
Questions of Henry and Pneumatology
How does Carl F. H. Henry approach pneumatology throughout his writings? Is his thought developed? If so, in what way(s)? Further, are those who conclude that he had a weak pneumatology justified in doing so? Specifically, this book will argue that despite criticism that he possessed an underdeveloped pneumatology, Carl F. H. Henry understood the Holy Spirit to play a vital role in three key areas: revelation, ecclesiology, and ethics. In this, he believed that a Spirit-inspired Bible (revelation) would order a Spirit-enlivened body (ecclesiology) composed of Spirit-filled believers (ethics). Though revelation, ecclesiology, and ethics are at times treated in separate theological categories, sometimes with little relationship between them, Henry saw pneumatology as a thread uniting them together.
The value of this book is found at the intersection of these two rationales: understanding how Carl F. H. Henry, one of American evangelicalism's greatest minds and central figures, approached the doctrine of the Spirit will help evangelicals in particular appreciate their past and contribute to the future in this era of pneumatological resurgence.
Further, because Carl F. H. Henry is an accomplished figure in the history of evangelicalism, a deep exploration of his views of a particular theological locus—in this case, pneumatology—is valuable. Significant attention has been given to numerous areas of Henry's thought. For example, Henry's understanding of the kingdom of God, political thought, epistemology, social concern, doctrine of Scripture, role in evangelicalism, and engagement with modern theology (especially Karl Barth) have all received dissertation-level treatments. It is not difficult to find resources examining Carl F. H. Henry's thought on a variety of topics. Henry on the doctrine of revelation? Take your pick. Henry on cultural engagement? Countless options. Henry on public policy, science, philosophy, or history? You get the point. But, Henry on … the Holy Spirit? Not as much, and for understandable reasons.
Despite the varied studies of Henry on a litany of subjects, there has been no sustained, academic analysis of his pneumatology. One possible reason for this is because many researchers of Henry have been connected to conservative Baptist traditions, and pneumatological questions were not at the forefront of their inquiry. Instead, they were asking questions of Henry that were relevant to their particular theological agendas and traditions, primarily regarding the nature of Scripture and the relationship of the covenant community to the world.
Another key reason for a lack of attention to Henry's pneumatology is that pneumatology is not explicitly at the forefront of his work. It is impossible to turn to one volume or chapter to gain a comprehensive understanding of Henry's pneumatology. Instead, one must do a bit of triangulation between his doctrine of God, his writings about the Spirit, and other writings on issues like evangelism and ecclesiology, which are not pneumatological per se but still address the Spirit. Henry's pneumatology is there, but it does not present itself easily. It requires construction. Nonetheless, he does address the doctrine of the Spirit, and pneumatology plays a relevant role in his overall theological method and vision.
---
This post is adapted from Carl F. H. Henry on the Holy Spirit by Jesse M. Payne (Lexham Press, 2021).